By Usoro I. Usoro, PhD
He once taught many the secrets of mathematics and physics, with incredible ability to recall formulas and laws. But today, he can't even remember a simple event as what he said to his wife when they first met!
That probably sums the irony of nature and the contradiction of life. But whether nature was playing pranks on Pastor Udonwan U. Anwan or he was joking with the audience on his 70th birthday, the crowd was well entertained.
Date was Sunday, September 26, 2021. Venue: The Apostolic Church, Secretariat District Headquarters in Eket. Time: 1.45 pm. Though the programme was originally promoted for 9a m., but as one set out from Uyo, a call came in to announce a slight change of plan. Anwan's birthday was rescheduled for noon, to allow more time for proper celebration.
The president of our great Alumni, Mr Aniekan Willie had "ordered" me to lead the team and represent him there. I was then in a quandary how to manage the latest information. To announce the shift on the platform probably would have caused more confusion as those who were already in church would have left and never returned. I discussed this with sisters Esther Eyo and Martha Otosin. Then, I decided to blank the new information.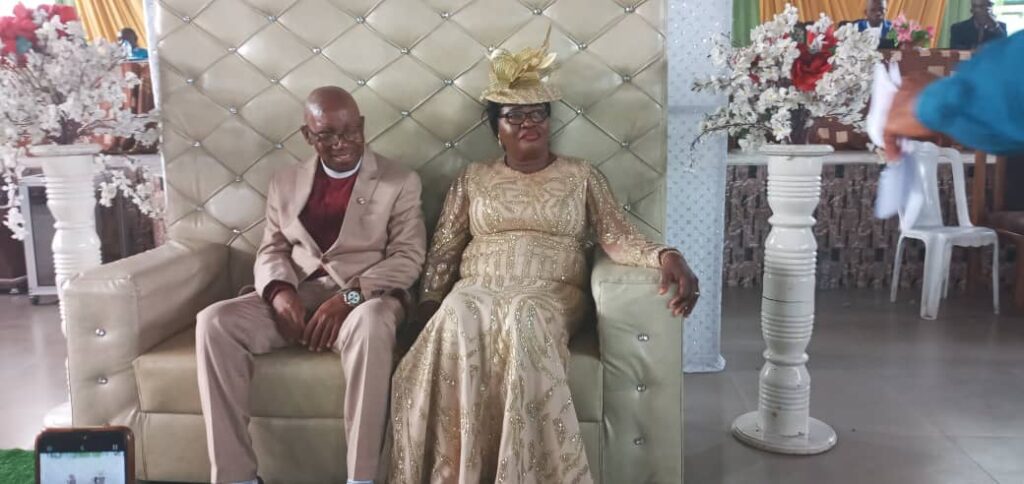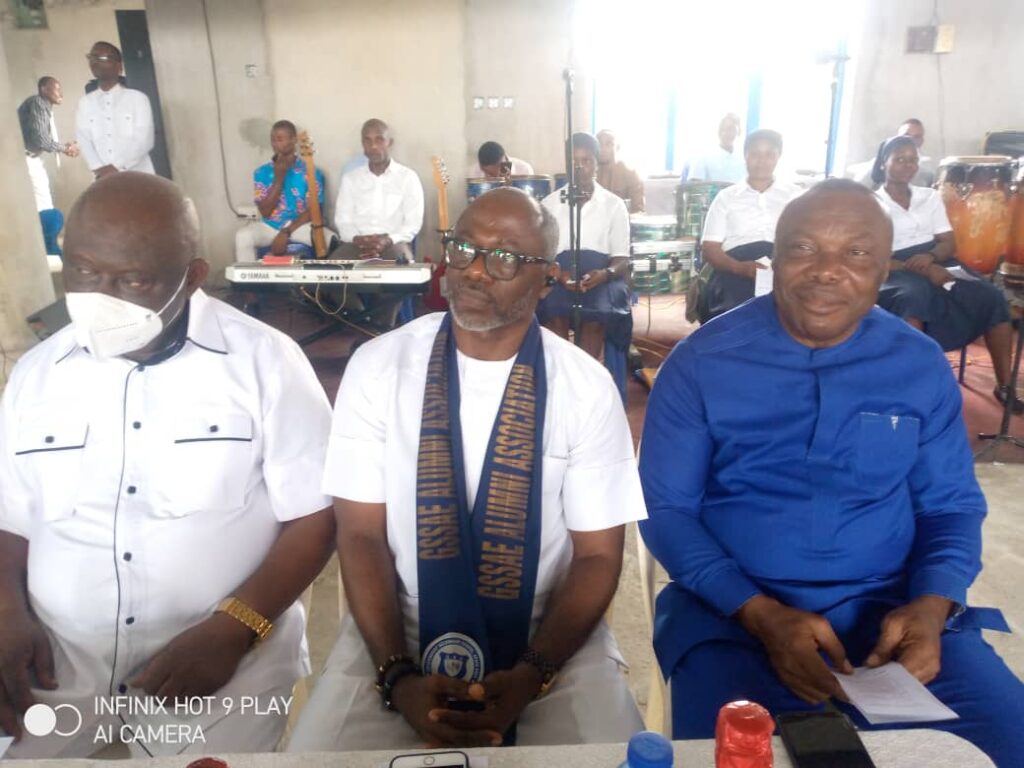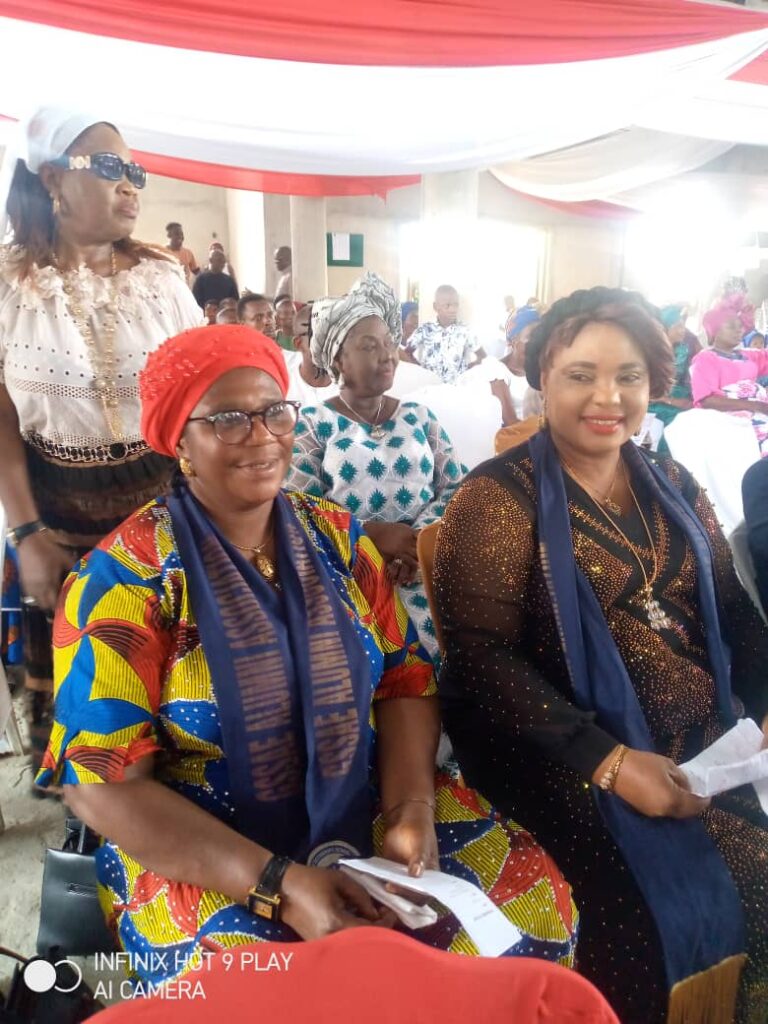 The time change gave me a few minutes to attend to other concerns, while waiting for the actual time for Anwan's event. When I eventually arrived, the church was about rounding off its normal service. Soon, it moved over to Part Two, which was the main celebration for the great teacher. The mood was somber, yet electric. The interior of the church was golden, spiced here and there with red, green and white.
Each colour probably represented "something" in Anwan's 70 years and more. Generally, gold stands for wealth. Anwan may not be materially wealthy in a stupendous way, but he is comfortable. Besides, wealth is not only in material terms. Intellectually, the great teacher, over the years, exuded much "wealth" that he lost nothing in "sharing" it with his numerous students.
The red colour reminded us of life, health, vigour, courage, love, anger and religious fervour. Remove the negative — anger — Anwan has experienced them all. White was there to remind all of Anwan's cleanliness, freshness, and simplicity; while green spoke of his fertility and energy. Anwan has been productive materially, socially, intellectually and all.
Oh, yes! Green is also for renewal! Incidentally, Anwan chose same day to renew his marital vows to his wife of many years. Both, dressed in magnificent gold-coloured attires, looked a good pair and kept cracking the church up with jokes and vivacity throughout the event.
Anwan's suit must have been tailored straight from heaven. He was the groom-in-gold! With a red shirt and a white collar, he must have dropped straight from a fashion magazine. The wife looked exactly what she was meant to be — a bride! Her gown flowed nicely like a gentle sea. Though also dressed in gold, her setting was capped with a set of gaily clad friends — all in bright red.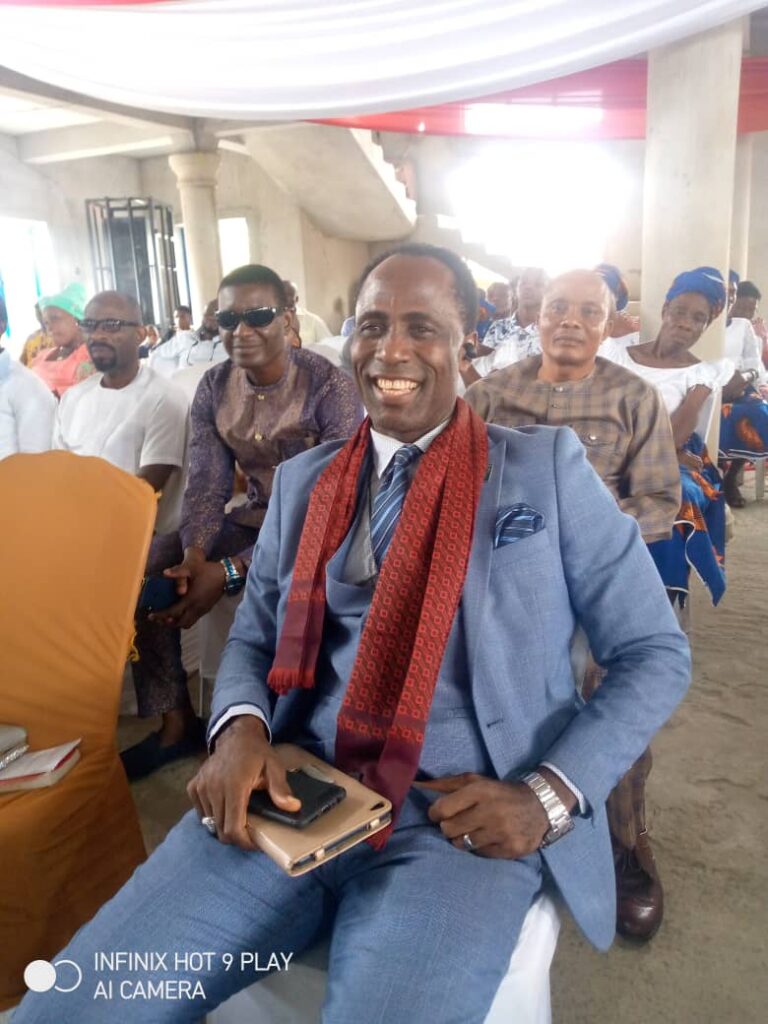 After the "new bride" was ushered to the couple's seat, the MC, Rockefeller, started with the "offending" question: "Sir, what was the first thing you said to your wife when you first met her?" Anwan took a few seconds to recall. Then, he reported blank: "I can't remember o!". The hall erupted in laughter. The way he said painted a picture of either an attempt at mischief or an effort to dodge a naughty issue. But Mrs Patience Anwan, perhaps aided by age and the exciting moment, came to the rescue: "The moment he saw me as he was walking past, he said he loved me." They both met, many years back, at Community Secondary School, Ikot Uso Ekong, where they both worked.
Elder Aniedi Ikoiwak, the chairman of the occasion, said the renewal of vows was perhaps Pastor Anwan's way of reminding the wife that he was not old and his love for her was still fresh. He added that the greatest lesson from the gathering was to remind all of the need for continuous thanksgiving.
As if on cue, speaker after another explored the theme of "thanksgiving", extolling the virtues of the teacher-turned-pastor. To some, like Mrs Helen Ekezie, an assistant director with the Department of State Services (DSS), Anwan's prayers secured her promotion, protection and deliverance for her daughter.
While others spoke of how they learnt humility and godliness from Anwan, an elated tenant spoke of him as an unusual landlord. Overwhelmed by Anwan's love, concern and generosity, unlike some Shylock landlords, she told of how the celebrator even refused to collect rent, especially during the COVID-19 lockdown. Instead, he kept asking her how she was coping with the family in the hard times. Her testimony made many to immediately inquire for a space in any of Pastor Anwan's properties.
Then came the turn of his former students! The Government Secondary School Afaha Eket (GSSAE) Alumni Association, apparently representing the generation of those Anwan helped to mould over the years, put up a fantastic show of appreciation. Some came, dressed to kill but easily identified by the Alumni mufflers.
As the leader of the delegation, I had the honour of telling Pastor Anwan that it was in the spirit of "thanksgiving" that we were there to identify with him and to say "thank you" for what he did for some of us.
"Sir, over the years, you have helped to build characters; you have moulded people. These are some of the people whom like plants, you helped to water and watch grow. Sir, I have the mandate of the entire members, Exco and the president to tell you that we appreciate all you did for us. Today, we have come to thank you and to join the church to pray that may God increase your years; may God increase you on all sides; may God increase you in wisdom and good health."
 I mentioned that the Alumni, comprising personalities spread across the globe, sent in donations as a token of appreciation. "Sir, we came with a card and a cake and a cheque of N200, 000!" The church erupted in applause.  I allowed a deliberate pause for effect. Then, I drove in the climax: "But sir, because of your goodness, while we were here in church, some of the students you impacted kept sending in money. So, the Exco has approved and has raised that donation to N300, 000!" The ecstatic crowd clapped and hollered endlessly.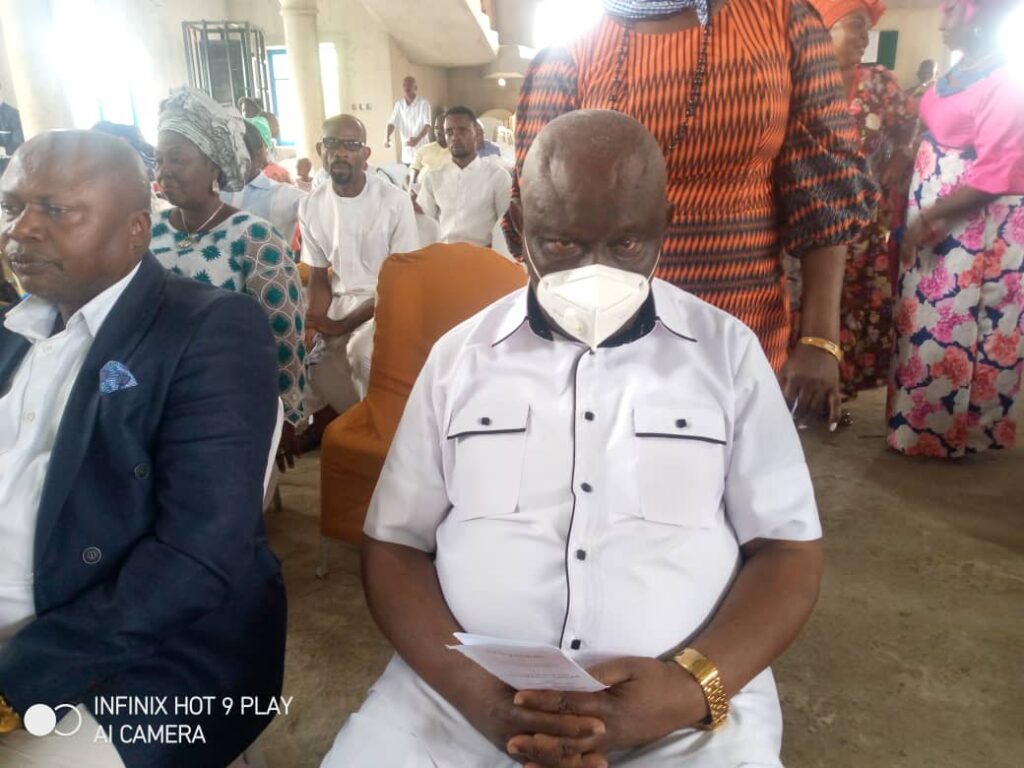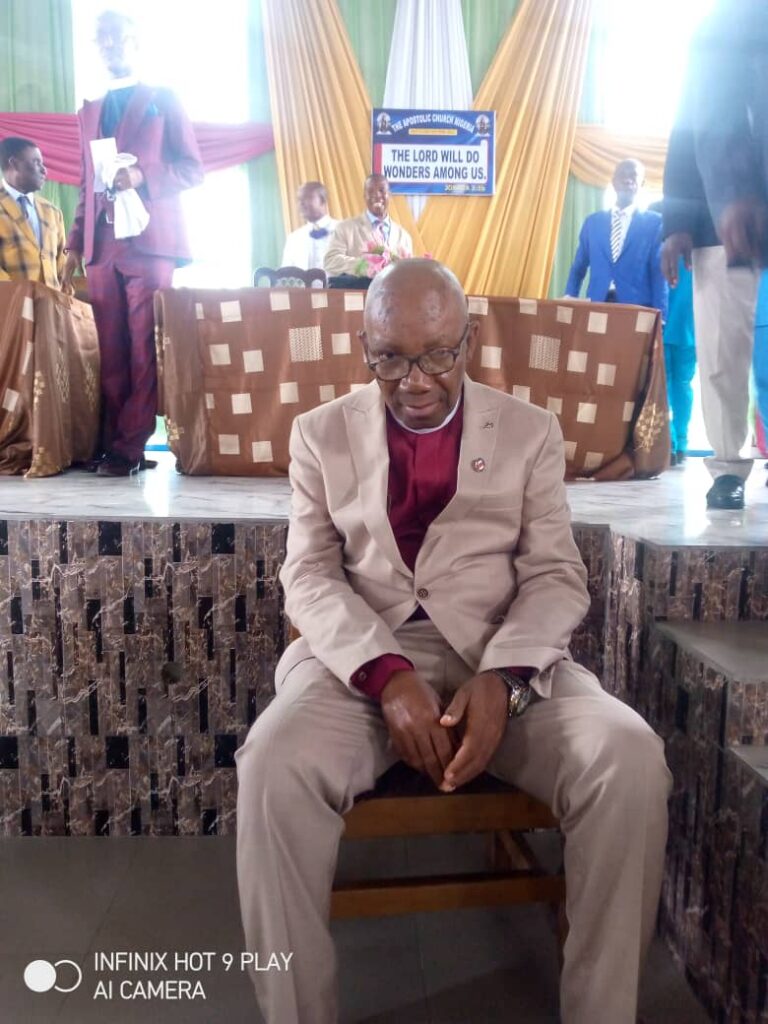 The smile on Anwan's face moved beyond gratitude to that of fulfilment. He looked sightlessly at some of his former students and repeatedly muttered: "thank you, thank you, thank you!" The wife moved involuntarily to the edge of the chair in apparent disbelief. Her eyes, now the perfect pair for the couple, were fixed on the old students as Anwan waved nonstop. Former students and teacher later froze the moment by capturing it in a group photograph.
There were two cakes. Anwan and wife cut them both — one at the spelling of "Jesus" and the other at the spelling of "God"! One cake symbolized the 70the birthday; the other for renewal of their marriage vows. Husband and wife supported each other alternately at each cake cutting. The lesson here was that marriage is not a completion but a complementary venture.
But then, as common is events of such nature the birthday celebration, the women stole the show — in participation, colour display and all!