My name is Essiet Nsudoh. People best know me as Rockyfella. I grew up with that nickname given to me by one Charles Etukudo. I never knew the origin or meaning of the name; but I was glad to bear it. That's what everybody calls me now. People hardly know me by my parent-given name. Unfortunately, I learnt recently that Etukudo, who gave me the name, has passed on (may his soul rest in peace).
I'm from Ede-Urua Village in Eket Local Government Area. The last child in a family of five, I was born on 6th June 1969. Judging from when I was admitted to study in Government Secondary School, Afaha Eket, I'm supposed to have finished in 1985, but I had an academic miscarriage. So, I finished in 1986.
Being socially inclined, I had a lot of friends while in school. But my closest friends were David Daniel (DD) and Richard Daniel (Rico Dany). These two were not in any way related. Their surnames were merely coincidental. But we were always there for one another. We still keep in touch till now; although distance has limited our level of physical interaction.
My favourite subjects in school were English Language and Literature in English. Mrs. Umoetuk—popularly known as Madam-You-Know—taught us Literature in English, while Mrs. Ene taught us English Language. I read as many novels as I could afford to, mostly those ones by James Hardly Chase—the man with inexhaustible creative or literary ideas.
Our Principal, Elder Edet George Utuk, was at the time, by my judgment, high-handed because of his strict sense of discipline. However, I have since realized that if he had not been as militant as he was towards us sometimes, I would've been nobody—to be honest. This should be a lesson to everybody, especially our upcoming students. Discipline does not kill. It shapes and prepares you for the future. Elder Utuk shaped us into what we are today.
My ambition from the outset was to be a broadcaster. I developed that appetite even as a kid. I can't really recall how I fell in love with the profession. In fact, I was so anxious to sit behind the big microphone that I felt it would be a waste of my precious time to go to the university. I chose to learn on the job. It may not have been a fantastic decision. But the moment I got done with the defunct School of Arts and Science in Uyo, in 1989, I started music presentation on Akwa Ibom Broadcasting Corporation at its sub-station at Abak. That was in 1990. I was 21.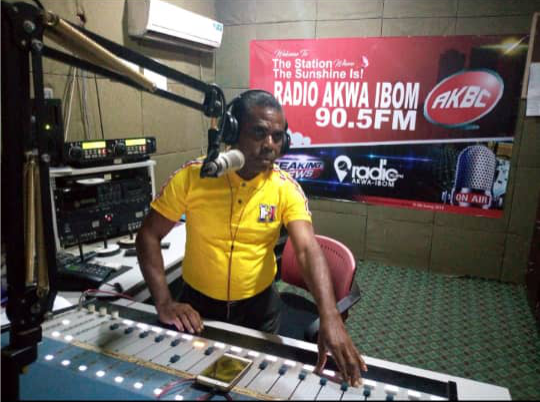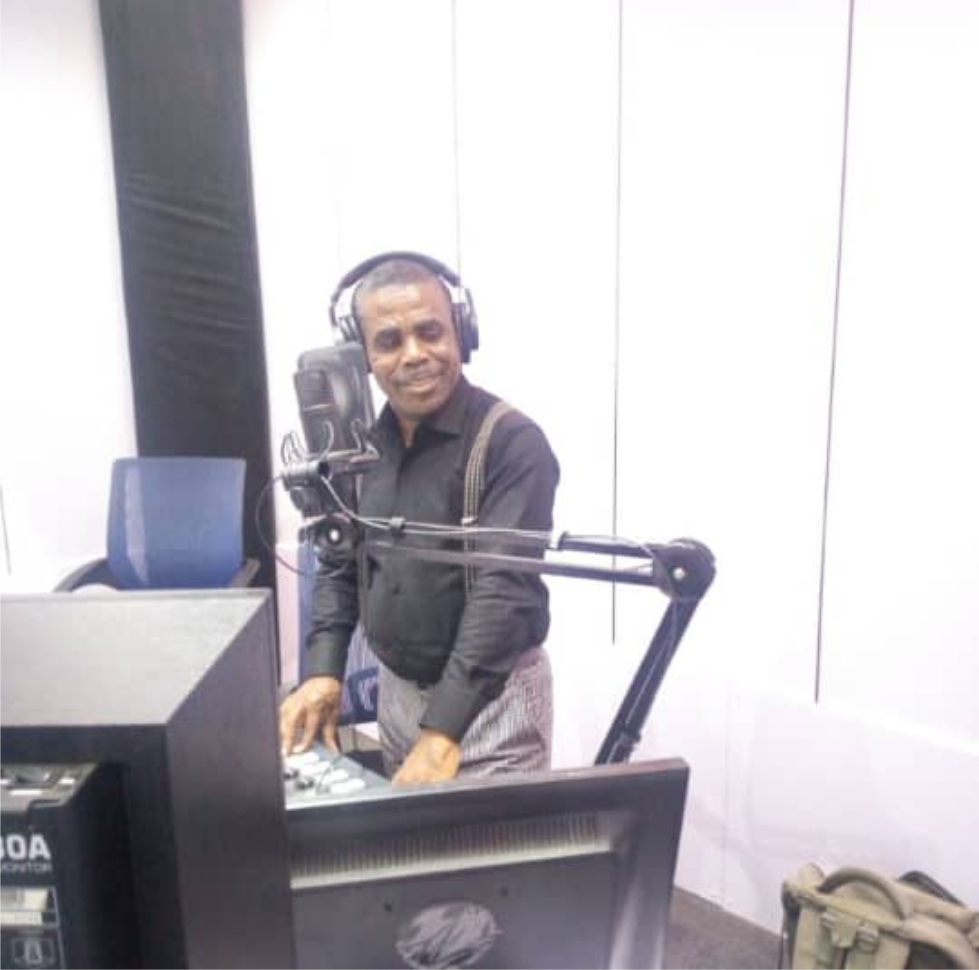 I underwent very many unpleasant experiences in the cause of pursuing my passion. The first day I got to the radio station and expressed my love for programme presentation, I was told I was not going to get paid for it. Though I needed the money, I told them that I didn't want to be paid if that would be a problem. I pleaded to be allowed to help the staff presenters by carrying their records (LP's) into the studio.
While I was in Government Secondary School, Afaha Eket, I heard so much about a certain Ubong Nda, who was the School Quiz Master at the Akwa Ibom Broadcasting Corporation. Then I met him on one occasion when he came for School Challenge Programme in our school. It was an exciting moment.
I walked up to him and informed him I would like to be a broadcaster. He said, when you are done with secondary school, come over. I went to see him as soon as I finished at the School of Arts and Science, Uyo. After I re-introduced myself, he said, "What's your academic qualification?" I told him, "Sir you'll need to look beyond my qualification to my passion." We got into a conversation. He was trying to size me up.
To my pleasant surprise, Dr Nda said "you don't have a higher than school certificate qualification, how come you speak good English?" I answered, "Sir I'm not a witness to that, but if I do speak good English, then it is family heirloom." He immediately asked me to spell heirloom. I did. He picked up a dictionary that was lying on the table in front of him and checked up the meaning of the word and also confirmed the spelling.
I guess I must have impressed him. That day marked the beginning of my journey as a broadcaster because, shortly after, I was ushered into the studio for the presentation of my first music programme, Flight 215, that same day. Any mistake I made that day could have been minimal enough to be ignored because I have been presenting music programmes at that station for the past 30 years.
Well, not just that, I also present Afternoon Ride and Hilltop Safari. The foundation for all of this was laid at Government Secondary School, Afaha Eket. It was there that I learnt confidence-building. Government Secondary School was more than an academic institution. We were trained not just in character and learning but sufficiently prepared to face the future and derive satisfaction from whatever we do after school.
Some events in my career have given me professional satisfaction. For instance, I have been declared Best Radio Presenter in the State five times. I have also won 42 awards so far, including a commendation by the National Broadcasting Commission (NBC) for professionalism. NBC is the body that oversees all broadcast stations in Nigeria. It's always a great feeling during music presentation to do telephone interviews with celebrities around the world.
For instance, I have interviewed well over 2000 celebrities in my career including music icons such as Jimmy Cliff; Eddy Grant, CeCe Winnans—who has 12 Grammy awards, far more than any female gospel artist alive. My list of interviewees include Yvonne Chaka Chaka; the distinguished Professor Ngugi Wa Thiongo of Weep Not Child fame; Professor Vivien Goldman, who was Bob Marley's first publicist; Marlon Jackson; Irenosen Okojie, winner of 2020 AKO Caine Prize for African writing; and the the reggae legend himself, U-Roy.
Still on my accomplished guest list are Eric Donaldson; El Debarge Jnr; a renowned radio DJ, JAJ or Jacob Akinyemi Johnson; Jackie Appiah, Omotola Jalade Ekeinde, Usain Bolt; Bob Geldorf of the We Are the World fame; Small Fire (winner of the 2017 best American Female Comedian); Professor Pat Utomi; Pete Edochie; Asuquo Cobhams; and many more. I have also been featured as a regular guest on WPKN Radio in Connecticut, USA; African Heritage Radio in Germany; and Hot 93 FM in Ghana.
You want to be a broadcaster? Study hard! Read a lot! Develop a passion for the job—not appetite for money. A deeper knowledge of English Language, Literature in English, Government and other art subjects would be an advantage.
No one should miss the point: every broadcaster, just as it is expected of seasoned journalists, must know a little of something about everything. Good enough, Government Secondary School, Afaha Eket is a good environment to absorb all of this.
That is my story. I attended a good school. I am enjoying my job. Presently, I live in Akwa Ibom State.
I can be reached 0803 667 4213
my e-mail is: [email protected]