This is the Story of Chief Assam Ekanem Assam, SAN – By Sam Akpe
The encounter was never planned at the level it unfolded. The President of the Alumni Association, Aniekan Willie, and I had agreed to visit Chief Assam Assam, SAN, whenever both of us would be in Akwa Ibom State at the same time. Neither the day nor time was fixed.
Coincidentally, before I reached Akwa Ibom late in the night of Tuesday July 27, Aniekan, was already on ground. We spoke on Wednesday morning. He reminded me of the need to see the erudite lawyer. I agreed.
At mid-morning of Thursday, I made the vital call. He didn't respond instantly. I decided not to repeat the call. I was quite confident that he would return my call; as usual. Then almost immediately, he called back. I was thrilled to have him call me back.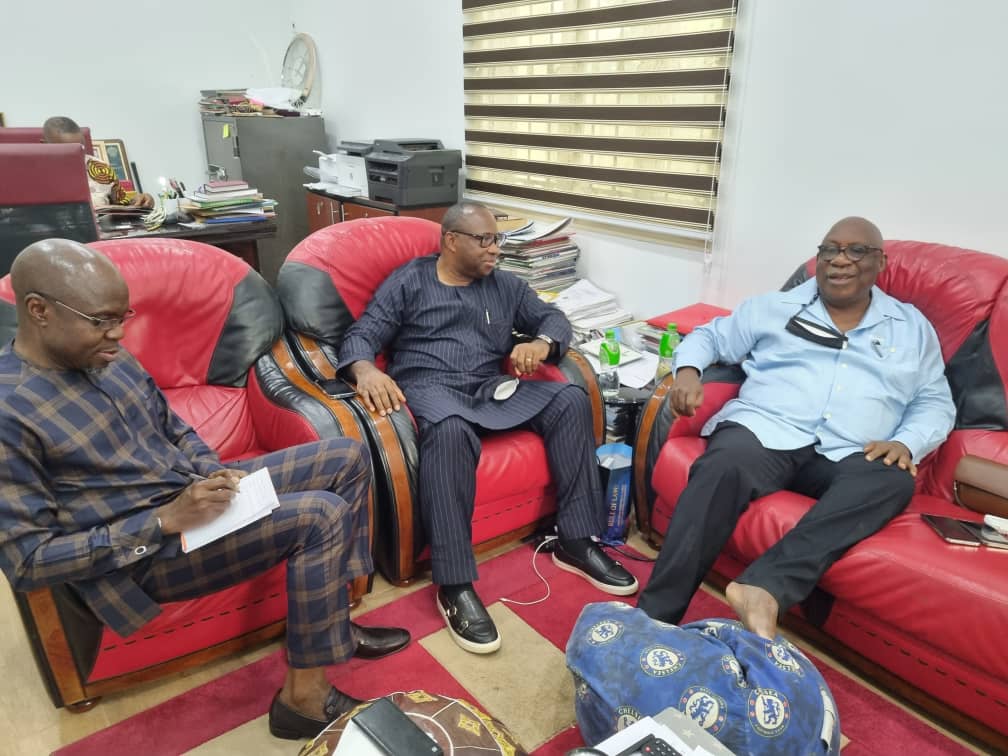 I took the call with enthusiasm; hoping he was not out of town. "Good morning, Chief. I'm in Uyo. Can I see you today?" There was no time for banter. I needed an appointment. It was good to go straight to the point. In that one sentence, I greeted him properly; I acknowledged him as a respected Chief; I announced my location; and submitted my request.
He responded in that trademark, deep baritone that has won him knotty cases in courts since 1980: "Yes, Sam, let's meet by noon" He was equally straight to the point; quite business-like. "Thank you, Chief. I'll be there," I responded. He returned to business; and I kept going.
That settled it. I did not tell him whether I would be visiting alone or with the alumni president. I quickly called Aniekan to inform him of the appointment. He was equally excited. We agreed on take-off point. But I needed Dr. Usoro Usoro to join us. Every call to his line had different feedbacks. It was either: "the number you are calling cannot be reached; or your call is being forwarded, or the number you are calling does not exist, goodbye!"
About 30 minutes to noon, I was with Aniekan, about to roll; when Chief Assam called. He wanted the meeting shifted by an hour. Always a gentleman, he did not want me to reach his house and wait while he attends to some top-level clients.
That 60 minutes space changed a lot of things. Trust our president when it comes to mobilisation. He hurriedly assembled a strong team comprising, Anniekan Etuk (we hijacked him from his office), Helen Udofa (summoned with presidential might), and Nkereuwem Ataudo (who was conscripted straight from the airport, while on a personal visit to Uyo). Still, Dr. Usoro could not be reached.
Just before 1.00p.m., we drove into Chief Assam's well laid out compound, in a mini-convoy. Even his dogs barked endlessly, wondering: who on earth are these people! Chief Assam was obviously happy to have us with him. It did not matter that I turned up with a crowd while he was expecting me alone. He welcomed us with open arms.
A few minutes after we were ushered into his well secured home, Chief Assam invited his wife over to where we were—a section of the house that also serves as his home office. We were lavishly introduced. Good enough, the graceful-looking wife of our grand alumnus did her national service at Government Secondary School, Afaha Eket, many years back.
Chief Assam Assam, Senior Advocate of Nigeria, can best be described as a Grand Old Student of Government Secondary, Afaha Eket. He started from what was then Edoho Memorial Grammar School, established in 1963 and located in Ikot Usekong; Eket Local Government Area. That was in 1965. He was just 12 years old.
Assam's enrolment in Edoho Memorial Grammar School which later became Government Secondary School, Afaha Eket, was masterminded by his beloved mother; who was a full-blooded princess both from her mother's and her father's sides.
Assam described his maternal grandfather as "a multiple, multi-lateral polygamist." He explained, "I never met him. His last brother that I met was over 100 years old. He had over 200 daughters. He was a real phenomenon.
In 1964, Assam's father was at the University of Nigeria, Nsukka to do a higher elementary course. On his return, he bought the Federal Government College admission form for his son. He wanted him to study in King's College, Lagos. Although Assam never liked history, during our interaction with him, he recalled with amazing details what happened after that:
"I took the entrance examination. The results were published in the Daily Times newspaper of January 18, 1965. My father took me to Oron where we bought the newspaper. My name was number three on the list of those admitted to Kings College. The news of that admission was celebrated beyond our family. Preparation was on for my departure.
"But my mother demanded to know where the college was. My father explained that before reaching the college, I would take a vehicle to Oron or rather go straight to Aba and take a train from there to Kafanchan, then from Kafanchan to Lagos. My mother was not impressed. She went to her family and mobilised support against my father.
"Her worry was: 'When Assam has malaria, which he usually has, how would I reach him.' My father went to his friends for advice. They told him to stand down the decision. He did. My mother then decided that I should go to Edoho Memorial Grammar School. That was how I eventually became a student of Comprehensive Secondary School, Afaha Eket."
His first and only principal at Edoho Memorial Grammar School was a brilliant gentleman, Effiok Okon Ekanem, from Uruan Local Government Area. He is reputed to have made a First Class in General Studies from the University of Ibadan. Unfortunately, he did not live long. He died in 1966.
Assam was one of the students that went to Uruan for the burial of Mr. Ekanem. That was one trip whose memory has refused to fade. He recalled: "I went to Uruan; that was in April, when mango fruits were at their best. But we were warned not to touch any. We left Uruan with a bitter memory. We saw high quality ripe mango fruits. Some almost touched the ground. But we were forbidden from touching any of them."
Assam noted that, "At the time we went to school, discipline was a priority. Every teacher knew every student—even the position you sat in class was known to the teacher. Our teachers were passionate about their work. But we seem to have lost it now."
During the interval of the civil war, young Assam was withdrawn briefly from Edoho Memorial Grammar School, and relocated to his village, Edi Urua; in Eket Local Government Area, where he was kept busy in farming and fishing.
Meanwhile, as the war raged, Edoho Memorial Grammar School became a temporary army barracks. The school was immediately relocated to Grace Bill Road in Afaha Eket and renamed: Comprehensive Secondary School, Afaha Eket. When the army eventually left, while the spirit of the school was at Afaha Eket, its carcass was renamed Community Secondary School, Ikot Usekong.
There are certain experiences which times and seasons have not been able to wipe off his memory. The moment Assam resumed classes at Afaha Eket, his father took steps to ensure that his son stayed in the dormitory and did not break bounds. Fortunately, the old man had two friends whose houses were located on either sides of the school compound.
Assam remembers, "Anytime I broke bounds, either of these his two friends will report me to my father. My father came up with an idea. He bought two canes and gave to each of them. He authorised them that whenever I broke bounds, any of them should follow me with the cane. They had his permission to flog me thoroughly. They did."
It is the belief of the senior advocate that while breaking bounds constitutes an act of indiscipline; "it is absolutely unnatural for human beings to be confined. Human beings must only be restrained under very necessary conditions. That was why we broke bounds. The rule in those days was: thou shall not be caught!"
At Comprehensive Secondary School, Assam met some unforgettable and exceptional teachers who left lasting intellectual and moral imprints on him. One of them was the English master, Mr. E. E. Okon, alias Oxford. The other was the government teacher, Mr. E. H. Ekong, alias Almighty.
He described the two teachers as "institutions" because of the impact of their presence in the school. Then added, "They gave us the discipline, the training and the confidence we needed."
Looking towards the ceiling of his house, as if seeing into the past and beholding the faces of these teachers, Assam told his attentive audience: "they were potentates. There was nothing they would teach you that you won't excel. They taught us with so much pride. They were so dedicated.
"As Oxford comes to the class, from the corridors of the building, he would start teaching. He had a way of holding the class spellbound. He was literarily a genius. He spoke impeccable English. His diction made us to call him Oxford. He spoke Queen's English with ease. You will want to always be in his class."
He said Ekong, alias Almighty, was barely as educated as Oxford. But no one in the entire school failed his subject, government, at any level, because of the manner he taught it. He had earlier served as the Mayor of Aba for several years.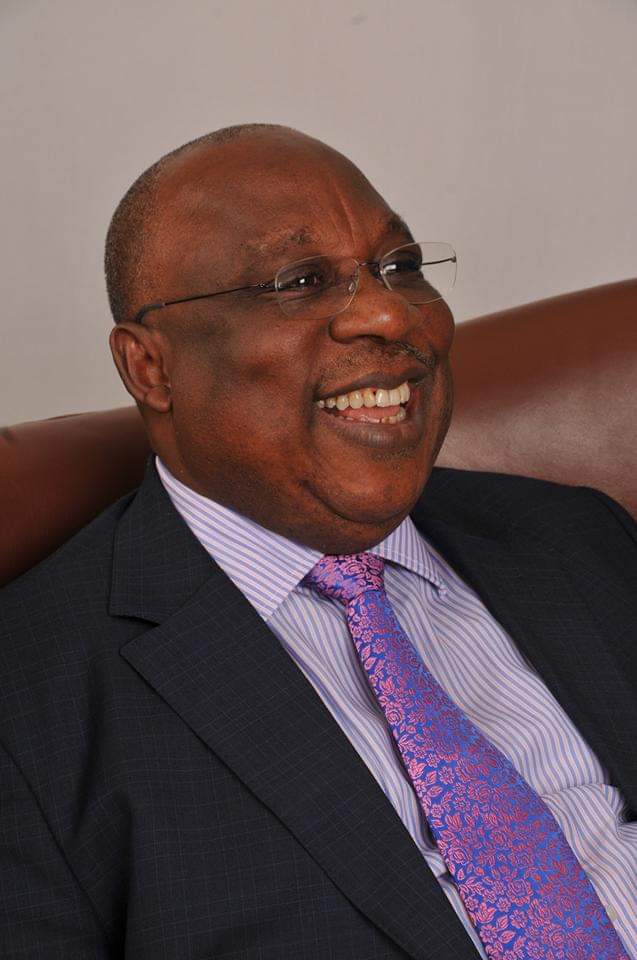 Chief Assam painted a frightening picture of these two teachers in the area of discipline: "They were such institutions that when they made a pronouncement on you, only God could change it."
In his final year in school, Assam offered eight subjects, but took only seven in the final examinations for the West African Examination Council certificate. He did not take physics because the school did not have a laboratory. History was not one of his best subjects. He had the lowest score in the subject.
An excellent art and science student; Assam started writing and acting drama while still in school. He also participated in quiz competitions. From Afaha Eket, he moved over to Saint Patricks College, Calabar, for his higher school certificate.
His opinion is that everybody should be taught literary appreciation in school. The reason being that there is literature in every scientific experiment; "in mathematics, you have literature in several forms, particularly in graphs and formulas." You can only argue with the Senior Advocate of Nigeria at your own risk!
Besides writing plays and acting them alongside other students, Chief Assam was equally a keen sportsman. Even today, he still looks athletic. In addition to sports, he was a member of the debating club, a band boy, and a member of the Scripture Union; and if I remember very well, he is said to have been elected the SU President at a certain point. Praise the Lord!
During his stay in Comprehensive Secondary School, Assam passed through several principals whose impacts on his life are still obvious. He started with E. S. Etukudo, an experienced Qua Iboe Church teacher from Mbioto, whose son owns Samaritan Clinic in Eket. Another principal was Jacob Bassey Adiakpan, who came from Etinan Institute.
Some of his classmates and friends were Edoho Sunday Edoho; Amana John Abakasangha; George Mfon; Bassey Okon; and a lady, Eno Akwaowo. Among all his friends, the lady, who was a year older than him, stood out. Unfortunately she died without a child.
Assam had more than a passing interest in drama. When it was time for entrance examination to the university, he applied to study theatre arts at the University of Ibadan. He was admitted. He had the shock of his life when he took the admission letter to his father. The man took the letter, read it and shook his head in disapproval and disappointment.
Let's hear him: "I gave my dad the admission letter. He said I should go and tell my mum about my admission and what I wanted to study. I did not know how to tell my mother in vernacular what theatre arts was about.
"My father openly tore the admission letter and declared, 'if I had a son, he should be a lawyer.' My father was so disappointed that I wanted to study theatre arts. I hated history. But I needed it to study law." This was what took him to SPC, Calabar.
In 1975, Assam was admitted to study law at the University of Nigeria, Nsukka. He graduated in 1979 and was called to the bar on July 17, 1980. Till date, despite the fortune he has made from law practise, he regrets, "I became an accidental lawyer because I still miss theatre arts and mechanical engineering."
At 68, Chief Assam remains the known oldest symbol of the vision and mission of the founding fathers of Edoho Memorial Grammar School, which metamorphosed into Government Secondary School, Afaha Eket. He has a sharp sense of history—especially a recall of unimaginable details.
On his line of duty, Chief Assam is well respected by his contemporaries; and revered by upcoming lawyers as an epitome of professional excellence. He is the head of an enterprising law firm, Lex Fori Partners. He holds such traditional chieftaincy titles as Abugh Ekid; Nkuku Idua; Adaha Ekid Afaha; Ada Idaha ke Efik Eburutu, among others.
In July 2011, he was appointed Attorney General and Commissioner for Justice in Akwa Ibom State—a function he executed with diligence. He left office in April 2012 to take up a federal appointment in Moscow as Nigeria's Head of Diplomatic Mission in the Russian Federation and the Republic of Belarus.
We had planned to just stop-over and inform Chief Assam of the alumni association, and also seek his involvement in our activities. But we ended up spending more than three hours with him. Anytime Aniekan stood up to give a vote of thanks so that we could leave, our host would tell the president not to be in a hurry reminding us that "today is my day." He made a commitment to be one of us.
What you have just read is not our usual profile. It is the story of a man who was almost there when Government Secondary School, Afaha Eket was established. Chief Assam represents the bridge that connects the present with the past. He is therefore our Grand Alumnus.